Thank you for your interest in joining Emanata!
---
Who Can Join Emanata?
Emanata is open to all current VCU students regardless of major.
Emanata does not have an acceptance/rejection process. If you meet all deadlines and file requirements, you will be included in the final print edition of Emanata.
Emanata will open submissions this fall, stay tuned!
Late applicants may email us at [email protected]. Late applicants, if approved, are expected to be on track within two weeks of approval.

---
What can I submit to Emanata?
As a comic anthology, all submissions must be identifiable to the casual viewer as a comic. Collages, storyboards, and zine-style narratives are unable to be included.
Submissions must pertain to the theme
Submissions can be as short as one page, and at maximum four pages.
Submissions must be black and white/grayscale. No color is permitted.
Submissions must include a title panel. This panel must be part of a larger page (IE no title pages).
Submissions must include some variation of "the end" (fin, end, etc). This can be a whole panel, balloon, or just small text.
Submissions (excluding thumbnails) must be in accordance with our file requirements.

300 DPI
Grayscale
Safety Area of 5 x 8 inches
Trim of 5.25 x 8.25 inches
Bleed of 5.5 x 8.5 inches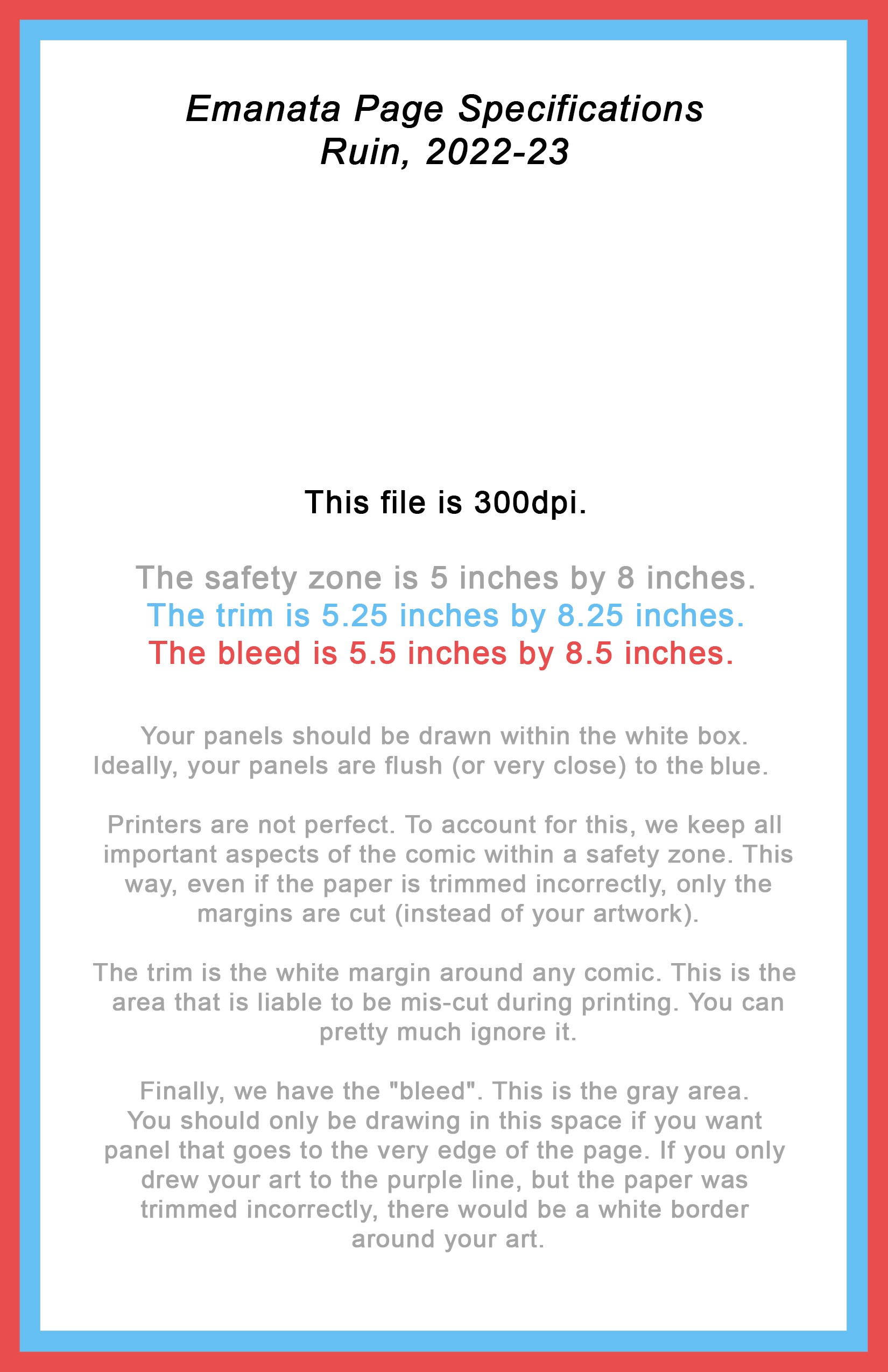 ---
How do I join as a Contributor and/or Editor?

Anthology process will begin Fall 2023
CONTRIBUTORS
Once the theme is announced, start working!
Within a 3 days of receiving your application, we'll email you a link, where you'll upload your script and thumbnails to when complete. Please email us at [email protected] if you do not receive a link.
EDITORS
You'll get paired up with contributors after scripts & thumbnails are submitted!
---
Want to make sure you stay in the loop? Join us on Discord!